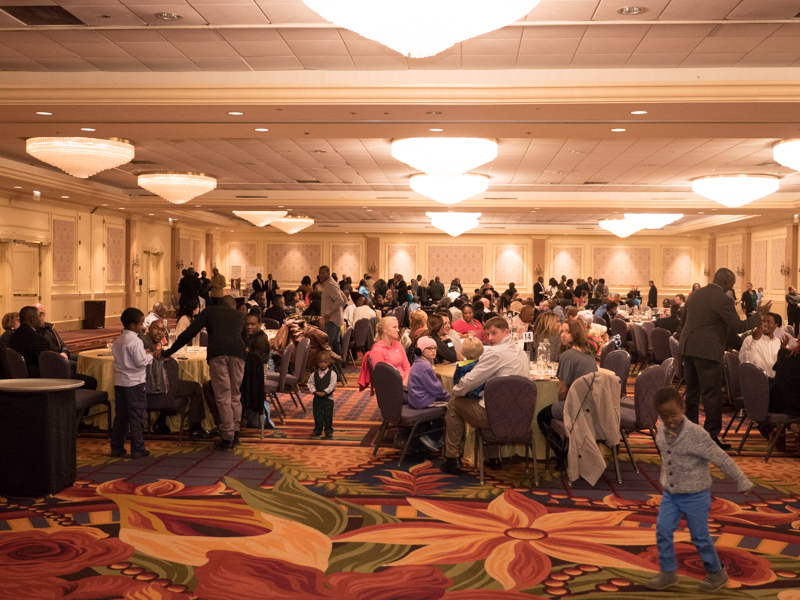 2015 Kenya Marathon Dinner @ The Hilton Hotel
The 2015 Edition of the Kenya Marathon Dinner was held on Friday Oct 9th at the Continental Ballroom Room inside the Hilton Hotel, Downtown Chicago.
This annual event gives us a chance to honor and cheer the Elite Athletes from Kenya participating in the Bank of America Chicago Marathon.
This year's event was also saw us award the 1st Annual Kenya Marathon Dinner Leadership Award for outstanding contribution to charitable causes to Mama Sarah Obama & The S.O.W.O (Safeguard Orphans & Widows) Foundation.
The guest at the dinner was Marsat Obama, the auntie to the president of the United States. The warmth of the Kenyan Diaspora who came by the dozens to wish the athletes success openly moved the soft spoken and gracious guest. She apologized on behalf of Mama Sarah Obama who could not make it to the event due to weakness of the body. Grand Ma is in her 90s and though she wanted to attend the event, her age did not allow. Marsat challenged Kenyans to help in the efforts of her mother who through SOWO and mama Sara Obama Children Foundation is working with orphans and widows in Siaya County.
Faith Chemutai Chepkwony the CEO of Kenya Marathon Dinner Group presented Mama Sarah with a plaque that will be presented yearly at the dinner on her behalf. The dinner started 17 years ago.
The guest speaker at the event was Kiambu County's Deputy Governor Gerald Githinji who was accompanied by his lovely wife Elizabeth whose foundation is helping the girl child in Kenya. He called on Americans to invest in Kenya calling Kenya a "hotbed" of opportunity and grace.
Chicago Mayor Rahm Emanuel sent an official letter, which was read by Kenneth Bennett who used to work at the White House. In the letter, he brought greetings from US president Barack Obama who wished Kenyans the best in the Marathon.
Kenyans won the Chicago Marathon with Dickson Chumba and Sammy Kitwara taking the 2 top positions. Wesley Korir the MP from Cheragani in the Rift Valley was among the top 5. At the dinner, Wesley spoke passionately about the doping problems Kenya is facing; He argued that this issue needed to be addressed by Kenyans wholisitically. He said Kenyans should not be judged on the sins of a few. The Rev. Christopher Arap Mutai of Bibilia TV Network and Pastor Shadrack Kathumo of Ushirika tabernacle church said prayers.
The event was graced by the presence of Senator Jacqueline Collins who praised the dinner organizers for bringing people of all races together for a fellowship of friendship.
The Kenya Marathon Dinner vote of thanks was given by Don Owino, who thanked all in attendance for a spectacular showing and promised to drive the Kenya Marathon Dinner to greater heights. He also acknowledged the supporting entities that made the 2015 Kenya Marathon Dinner possible.
These entities include The Chepkwony Foundation, TopDonn Entertainment, The Hilton Hotel, Century Health Services, Ethiopian Diamond, Afrodisiac Entertainment
View complete picture gallery here