Mama Sarah Obama Foundation
The Mama Sarah Obama Foundation (MSOF) is the realization of a long-term dream of Mama Sarah Obama. The foundation was established after years of hard work helping orphans and poverty-stricken families feed and educate their children.The Mama Sarah Obama Foundation is a charitable nonprofit organization whose mission is to improve the education and welfare of disenfranchised children in order to help them successfully achieve their goals and have a better future. This mission is accomplished by providing early childhood education, offering primary and secondary education and sponsoring the Mama Sarah Scholarship Fund for Higher Education. Our vision is a world where children are nurtured and supported physically, educationally, and emotionally to thrive and succeed in life.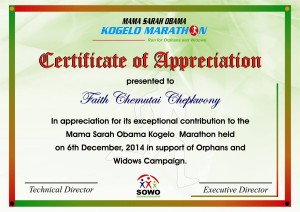 CardoLinda Foundation
The CardoLinda Foundation was founded in 2010 in Migori, Kenya. The mission of the CardoLinda foundation focuses of providing continuing education specifically for young girls between the age group of 8-16 years old. It also focuses on providing pre-natal and post-natal services to multiple communities that do not have access to healthcare services within 10-15 Km of their homes.